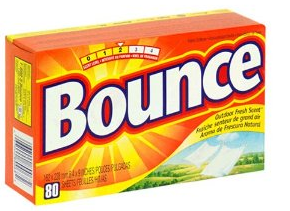 So, on my big trip to China, which I promise to post about, I'd heard that if you stuff a few Downy Sheets into your luggage, it will help keep your clothes smelling fresh and would also help the clothes be a bit more bug resistant.
1) Keep clothes smelling fresh while traveling or back backing.
This worked very well for me. I threw a few sheets in my main pack area and put a sheet in each of my shoes. I also brought extra. If you have any little campers getting ready to go on a multi-night trek, this could help. Also works well in traditional luggage.
2) In shoes.
I did notice that when I put the sheets in my shoes on my trip, the odar was eliminated. I'm going to start doing that with my exerzise shoes.
3) In storage.
Similar concept to above. If you store your winter clothes during the summer, throwing a few dryer sheets in with them will help combat the storage smell. Don't stop at clothes. Luggage, sporting goods, picnic supplies, all sorts of things could benefit from a little dryer sheet TLC.
4) Repel bugs.
This is not a replacement for insect repellent, but as a secondary protection, stuff a dryer sheet in your pocket. The bugs dislike the smell. Paired with number two, it can help protect your clothes.
5) Repel rodents.
Apparently rodents don't like this smell either so you can put a few sheets in areas that you might have rodent problems like your basement, garage, etc. If you find a hole that the mice have been using, stuff it with one of these.
6) Car smell.
Place a few under your car seat cushions.
7) De-stink litter box.
Tape a dryer sheet near the litter box to combat the smell.
8) Combat wet dog smell.
When your soggy pouch comes in from the rain, wipe him down with a dryer sheet.
9) Fresh smell throughout the home.
Tape a sheet to your HVAC vent to blast nice smelling air throughout your home. Be careful and make sure to secure it very well. You can also tape one to the top of your ceiling fan for it to circulate throughout your room.
10) Replacement for tack cloth.
At the end of a wood project, you use tack cloth to pick up all the saw dust. A dryer sheet is a much cheaper alternative.
11) Keep photo albums from garnering that musty book smell.
Put a dryer sheet between the pages. It's secondary use can be a book mark.
While the manufactures recommend throwing away your dryer sheets after each use, these ideas can be done with either new or used sheets:
12) Reduce static cling.
While part of their main purpose is to help with static cling while stuff is in the dryer, it can also help outside the dryer. Rub down clingy skirts, dresses or even hair!
13) Mixed media in art projects. Add a little texture to your next project.
14) Cleaning paint brushes.
Throw a dryer sheet in a glass/container of hot water then plunk in your paint brushes. Let them sit for about fifteen minutes then rinse them off. Wiping them down with another dryer sheet before the final rinse will help keep the bristles soft.
15) Cleaning baked on grime in pots or casserole dishes.
After you've tried a little bit and all that's left is the tough part, fill the pot or dish with warm water, throw in a couple dryer sheets, put on the lid and let soak overnight.
16) Clean up pet hair.
If you can't find your lint brush, a dryer sheets makes a decent alternative.
17) Tidy up the laundry room
. Once you finish your load, take that dryer sheet and rub down the inside of the washer and dryer, the lint trap and even spilled detergent. Viola! Nice and tidy...or bouncy...
18) Clean computer or TV monitors.
The dust and static electricity will both disappear.
19) Dust.
Use this to wipe off dust from hard to reach places. The residue will also help keep dust from sticking in the future (newer sheets will be even better for that).
20) Non-stick coating on sewing thread
. Don't you hate when your thread gets all tangled? After you thread your needle, run it through the sheet and as you sew, you'll be coating your thread with an invisible layer of magic.
21) Car/Motorcycle.
Polish the chrome on your car or motorcycle.
22) Remove soap scum.
Works equally well on tile as on metal, in the kitchen or in the bathroom.
Do you have any household items that you've discovered holds a treasure trove of other uses? Have you tried any of these ideas before?
Reference Links:
http://www.curbly.com/users/Chrisjob/posts/1602-25-alternative-uses-for-fabric-softener-dryer-sheets
http://www.rd.com/home/fantastic-uses-for-fabric-softener-sheets/
http://voices.yahoo.com/the-many-uses-dryer-sheets-2980287.html